Performance
I'll be playing a fundraising dinner at the Casino Club in Chicago on Friday, May 30th for Shaw Chicago - an acting company who performs readings of works by Bernard Shaw and his contemporaries. 

I get to work with two of my favorite people, Diana Lopez (viola) and Alex Feldman (bass).  We'll be performing a mix of jazz standards and instrumentals of contemporary pop songs.

Shaw Chicago
http://shawchicago.org/

Update: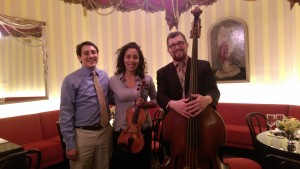 I've become a huge fan of Shaw Chicago!  The actors, director, supporting staff, and patrons were incredible.  The Casino Club was a perfect venue for an incredible dinner, discussion, and sneak-peak of next season.  The actors & director did a remarkable job with three excerpts (Shaw, Oscar Wilde) and really made the night for me.